RC Basic Policy
In order to implement our management philosophy, management policy, and corporate ethics charter, we have positioned the provision of technology and products that contribute to environmental protection and to society as a key management measure. We will also work on the following top priorities with regard to the environment, safety and quality, based on giving consideration to staying aligned with environmental protection in the global environment under the principle of "Sustainable Development."
Pay attention to environmental burdens and strive for environmental protection throughout the entirety of product life cycles, from development to disposal.
Aim for zero accidents and zero disasters, and strive to ensure the safety of employees and society.
Check the safety of chemical substances handled, including raw materials, intermediate products and products, and keep in mind the health of stakeholders, including employees, distribution staff, and customers.
Supply stability for products and services that satisfy and win the trust of customers.
Comply with laws and standards and strive to further improve the environment, safety, health, and quality through the promotion of voluntary efforts.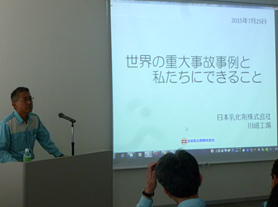 Preservation education to all the workers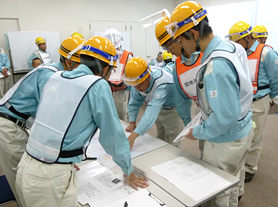 Transportation accident measures meeting
Safety/Environment/Quality Assurance
[ Safety Philosophy ]
Safety comes first before all other activities
Under our safety philosophy, we have established an occupational safety and health policy based on the Occupational Safety and Health Management System (OSHMS) to continue strengthening our "safety first" climate.
[ Environmental Philosophy ]
We are expanding our business activities while contributing to the development of our society under the understanding that, as an important part of it, companies have a basic responsibility to actively contribute to the protection of the global environment.
[ Environmental Policy ]
Position our initiatives for global environmental protection as one of the most important issues when expanding business activities.
Comply with rules based on various laws, regulations, ordinances and agreements regarding environmental protection, as well as set specific objectives and goals for reducing various environmental burdens and work towards achieving such objectives and goals.
Create frameworks and systems for environmental management, and strive for the continuous improvement of its operation and of the prevention of contamination.
Strive to develop and provide society with products, technologies and services with lower environmental burdens.
Document, execute and, maintain measures, while informing all employees (including in-plant partners), in order to achieve our environmental policy.
Disclose our environmental policy upon external request.
In order to establish and successfully implement specific objectives for environmental preservation activities at our plants, Nippon Nyukazai constructed an environment management system in 2003 and obtained an ISO14001 certification for our Kawasaki Plant in the same year. The Kashima Plant also obtained this certification in 2011 and initiatives are underway to continue making improvements.
[ Quality Policy ]
Our top management has decided upon the following quality policy, and aims to fulfil the policy requirements and continue improving the effectiveness of the quality management system.
(1)To provide customers with products that they can trust and be satisfied with.
(2)To continually make improvements to our production processes and aim to achieve stable quality.
Nippon Nyukazai conducts quality assurance activities in an effective manner at its plants and established a quality management system in 1997 with the aim of increasing customer satisfaction. Our Kawasaki Plant obtained ISO9001 certification in 1998, while our Kashima Plant did so in 2011. Efforts are being made to continue making improvements.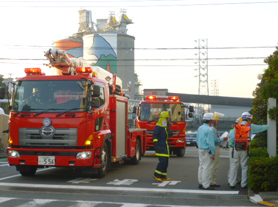 Joint disaster prevention drill at Kawasaki
Tankyard of Kawasaki Plant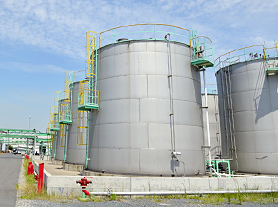 Tankyard of Kashima Plant