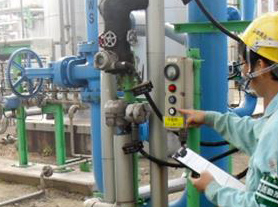 Danger prediction work with checking actual apparatus
Responsible Care (RC) is the voluntary securing of safety and health and environmental protection throughout all processes related to chemical substances, from development, through manufacturing, distribution and final consumption, to disposal and recycling. RC also includes publishing the results of such activities in order to interact with and communicate with society.
Being a chemicals manufacturer, we have positioned RC as a critical activity and have engaged in it since 2009 under our RC basic policy. An RC Promotion Committee headed by our President, as well as RC Committees in the Kawasaki and Kashima Plants as subordinate organizations have been established in order to set priorities and promote RC activities.
We have been interacting with Nippon Shokubai Group to improve our RC activity level. Since 2014, environmental safety audits of Nippon Shokubai Group companies are being performed, further enhancing the management system for security and disaster prevention, as well as for occupational safety and health.